I've been blogging on Daily Kos since Fall of 2006.  In that time, I've mostly blogged about what I call "fluff" – pooties, soups, community because to me community is the backbone of the Progressive Agenda.
In my 4.5 years there I've seen a lot of good, and some not so good.  I've seen Kossacks meet, fall in love and marry and I've seen Kossacks struggle to survive and I've joined the community in mourning those we've lost.
Through it all I've kept a close eye on how our elected officials engage the netroots.  Some do it really well, many struggle and some have just plain given up.  In the last year and a half I've been lucky enough to end up in a position where I am now working with some of our elected officials in Congress in the realm of social media, and by extension, blogging.
In January, I sat in a room with 30+ Democratic House staffers and we talked about the Netroots- who we are, what we're about and how can we all work together to accomplish our goals.  These staffers were starving for the knowledge.  They knew what the netroots was but they were apprehensive…didn't know the etiquette… weren't sure if they would be welcomed into the fold.
Since that day I've had the opportunity to talk with many of these staffers one on one and we're starting to see them dive in.  Rep. Pete Stark has started to post diaries.  Rep. Raul Grijalva, who has blogged at Daily Kos for a while, has taken the deeper plunge- not only doing live blogs (he'll be on Daily Kos with me tomorrow at 3 pm EST for one) but also joining some of the Daily Kos groups that share his interests- like the Baja Arizona Kossacks.
Then there's Rep. Charlie Rangel.  When I met with his press secretary and chief of staff in January, they were eager to participate in the blogging world but a little hesitant too.  We all know that Rep. Rangel found himself enmeshed in scandal last year, but through it all he kept his focus on representing his constituents and he was re-elected.
Now, he's decided that if he really wants to engage the netroots he needs to not just walk the walk, but talk the talk.  So tomorrow night at 8 pm EST he and his staff will be conducting their first Blogger Conference Call.  Think press conference for bloggers.  Rep. Rangel will join us and share some observations about the budget process and the labor issues that have been erupting all over the country.
Then he'll take questions from us, from bloggers.
Now it's up to us to show Rep. Rangel and the other Dems in DC that we want this kind of interaction to continue.
So what can you do to help send that message? Drop me an email at progressivepst at gmail and ask to be included in the Blogger call tomorrow night.  Show up…ask relevant questions about policy and issues that are important to us all.  Write about it.
Then keep an eye out for the next Blogger call…you never know which Rep. or Senator will be next…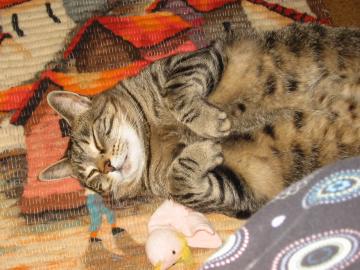 About the Author
Beth Becker
Sped works as a social media consultant to Dem campaigns, legislative offices and assorted Democratic organizations. In her spare time, she works on message distribution and building message amplification, manages Progressive Congress News and occasionally reads and sleeps.