Please forward this to friends, relatives, "centrists" and conservatives you know. You may have heard about the "Occupy" protests that are occurring in cities around the country. They aren't what you are hearing. Please come to one and see for yourself. If you are young, old, white, black, brown, poor, rich, left, right, centrist, even Tea Party you will find people just like you. You might agree, you might disagree, you might love it, you might hate it, but you owe it to yourself to come and see for yourself.
A lot of people feel frustration with the huge and increasing gap between the rich and the poor and the effect this is having on our country, culture, politics and the way we relate to each other as Americans. It seems like everything in the country is now geared toward the top 1%, and the rest of us are divided and supposed to keep quiet and accept this. Somehow the Occupy movement started at just the right time, when just the right number of people were fed up with the way things are going and the lack of solutions coming from our political leaders. It grew quickly, because people were tired of keeping quiet while our government seems to operate only for the benefit of the top few and expects the rest of us to sacrifice to pay for that.
This all brings us a chance to restore democracy not just in our communities, but within ourselves. By attending and participating, we are exercising the "muscles" of democracy, of speaking up and being part of something. The thing is, you won't just see it, you'll feel it. You'll feel what it is like to have so many people around you who agree with you. You'll feel what it is like to be part of something important.
How To Find One Near You
The "Occupy" movement has now been going on for just over six weeks, and has spread to hundreds of towns across the country. You can probably find one near you. Start at Occupy Together which is at http://www.occupytogether.org/. Take a look at the page where they show you what is happening in your area, using a map. Also, try typing 'Occupy' and the name of your town into Google just to see what pops up.
Also see them on Facebook, at http://www.facebook.com/occupyeverywhere, and http://www.facebook.com/Gilded.Age . Also visit the Rebuild the Dream movement, and, of course, MoveOn.org.
So now that you know where one is, come on down, and see for yourself. If you need a ride ask your niece or your aunt. If your aunt needs a ride, give her a ride.
What To Expect
Warning, there might be some people with beards, and God forbid, drum circles.
People are out there speaking for themselves, and learning how to be citizens again, instead of just consumers. This will have a lot of interesting outcomes, most of them good, some of them won't work out. But it will be people who want to be involved again.
Depending on your community, there will likely be a turnout of some people with signs and leaflets, maybe some people set up with tables to do things like register people to vote, organizations with literature, groups that know each other, people who don't know each other standing around, etc. There will be a diversity people people.
These events are self-organizing, no one is "running" these events, but volunteers will be helping to organize them. The character of the event completely depends on who shows up, who volunteers to help run it, and how much the people speak up. So it's up to you to do your part.
See the website How To Occupy and the Field Manual wiki.
Occupy events have a "General Assembly" meeting once or twice every day. In New York the meeting is at 7pm. At the recent Redwood City, CA Occupy event it was at about 6pm. As I said above, volunteers run things, which means that after you get to know the ropes you might want to volunteer.
From the Occupy Wall Street website:
The occupations around the world are being organized using a non-binding consensus based collective decision making tool known as a "people's assembly". To learn more about how to use this process to organize your local community to fight back against social injustice, please read this quick guide on group dynamics in people's assemblies.
These meetings are the heart of the movement. Please come attend one, even if it is just to watch. You'll feel what it is like to be say what is on your mind. (And you'll feel what it is like to sit there while so many other people say what is on their minds.

Don't worry, it works, and people keep comments short.) This is what democracy looks like.
Occupy Redwood City
Friday I attended Occupy Redwood City (California), and took some pictures. It was the first Redwood City event, maybe 50 people showed up, and the General Assembly lasted a couple of hours. They'll meet again next Friday, and probably should expect a lot more people now that it is up and in operation and people are telling each other about it. If 50 people doesn't seem like a lot, this is not a huge city, and there are more than a hundred events like it going on, some with thousands of people turning out.
(Slide show, if it doesn't show up click here.)
Scary, no? Especially the guy (me) with the little white dog. Was that a beard? Of, that first one is a short video, click here in case it doesn't work in this post.
Don't Let Them Scare You Away
Speaking of being scary: There will not be violence. This is a non-violent movement. The media outlets, talk show hosts, columnists, etc. that tell you there is violence are trying to keep you from showing up. They are trying to scare you. When they send large numbers of police to shoot tear gas into these events, it is an attempt to intimidate people, not just there but people who are thinking of showing up.
Another way they are trying to keep people from showing up is with humiliation. This is a remarkably effective technique. Make people ashamed to show up, tell them they will be laughed at, or shunned, and people will stay away. They tell you the "protesters" are "dirty," even "urine-soaked." They tell you they are "hippies" and thinkthis will make you ashamed to show up and speak your mind.
This is about what speech is "permissible" and what is not. The corporate-conservatives on the Supreme Court say that corporations are people who "speak" and can use all of their money to swamp our elections. But when people show up to complain about the 1% running everything, they are met with force. The big banks can crash the economy and commit crimes and are offered modest "settlements," but when people show up to complain they are beaten, maced, tear-gassed and arrested.
Don't let them make you feel scared or ashamed to stand up for your rights.
Show Up & See For Yourself
If you want democracy you have to fight for democracy. You have to stand up for your rights or they will go away. Please visit at least on Occupy event in your area, and see for yourself.
This post originally appeared at Campaign for America's Future (CAF) at their Blog for OurFuture. I am a Fellow with CAF.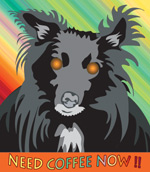 About the Author
Dave Johnson
Dave Johnson (Redwood City, CA) is a Fellow at Campaign for America's Future, writing about American manufacturing, trade and economic/industrial policy. He is also a Senior Fellow with Renew California. Dave has more than 20 years of technology industry experience including positions as CEO and VP of marketing. His earlier career included technical positions, including video game design at Atari and Imagic. And he was a pioneer in design and development of productivity and educational applications of personal computers. More recently he helped co-found a company developing desktop systems to validate carbon trading in the US.