Here is everything you need to know about how to fix the deficits and jobs problems. This is a chart of job creation over the last few years:
There is a report in Saturday's New York Times, "White House Debates Fight on Economy," saying the Obama administration is choosing between doing very little about jobs, or doing nothing.
Mr. Obama's senior adviser, David Plouffe, and his chief of staff, William M. Daley, want him to maintain a pragmatic strategy of appealing to independent voters by advocating ideas that can pass Congress, even if they may not have much economic impact. … But others, including Gene Sperling, Mr. Obama's chief economic adviser, say public anger over the debt ceiling debate has weakened Republicans and created an opening for bigger ideas like tax incentives for businesses that hire more workers, according to Congressional Democrats who share that view.
So according to the Times the choices being debated are a) do nothing, because the mean Republicans will block it anyway, or b) offer even more tax cuts for businesses. Yikes!
Meanwhile, out in the Real World…
The ailing economy, barely growing at the same pace as the population, has swept all other political issues to the sidelines. Twenty-five million Americans could not find full-time jobs last month. Millions of families cannot afford to live in their homes. … [. . .] A wide range of economists say the administration should call for a new round of stimulus spending, as prescribed by mainstream economic theory, to create jobs and promote growth.
But, back in the White House?
Mr. Plouffe and Mr. Daley share the view that a focus on deficit reduction is an economic and political imperative, according to people who have spoken with them. Voters believe that paying down the debt will help the economy, and the White House agrees, although it wants to avoid cutting too much spending while the economy remains weak.
They think that taking money out of the economy will put more money into the economy. Great. As I wrote the other day, this is austeridiocy. As England, France and every other country that ever tried to grow an economy by cutting the economy has learned, taking money out of the economy takes money out of the economy.
What Works In The Real World
Here is everything you need to know about how to fix the deficits and jobs problems:
This is a chart of the monthly job losses that were occurring before and after the "stimulus" package.
Before The Stimulus
In this chart, the RED lines on the left side — the ones that keep doing DOWN — show what happened to jobs under the policies of Bush and the Republicans. We were losing lots and lots of jobs every month, and it was getting worse and worse.
During The Stimulus
The BLUE lines — the ones that just go UP — show what happened to jobs when the stimulus was in effect. We stopped losing jobs and started gaining jobs, and it was getting better and better.
The Stimulus Winds Down
The TAIL — the leveling off on the right side of the chart — show what happened as the stimulus started to wind down. Job creation leveled off.
It looks a lot like the stimulus reversed what was going on before the stimulus.
Conclusion: THE STIMULUS WORKED BUT WAS NOT ENOUGH!
Jobs Fix Deficits
When people are working they are paying taxes and are not collecting unemployment. And they are buying things, which means there is demand in the economy again, so businesses will hire people.
Customers Create Jobs
Actually, the rich don't create jobs, we do. Lots of regular people having money to spend is what creates jobs and businesses. That is the basic idea of demand-side economics and it works. In a consumer-driven economy designed to serve people, regular people with money in their pockets is what keeps everything going. And the equal opportunity of democracy with its reinvestment in infrastructure and education and the other fruits of democracy is fundamental to keeping a demand-side economy functioning.
When all the money goes to a few at the top everything breaks down. Taxing the people at the top and reinvesting the money into the democratic society is fundamental to keeping things going. Cutting taxes at the top steals from democracy's ability to continue this reinvestment.
It doesn't matter how much more money you give to business owners, businesses are not going to hire any more employees until they have a REASON to — and that reason is customers coming in the door.
Businesses Do Not Create Jobs
Businesses do not create jobs. In fact, the way our economy is structured the incentive is for businesses to get rid of as many jobs as they can. It costs money to pay employees, so businesses want to trim down to the minimum number required to get the needed work done.
Many people wrongly think that businesses create jobs. They see that a job is usually at a business, so they think that therefore the business "created" the job. This thinking leads to wrongheaded ideas like the current one that giving tax cuts to businesses will create jobs, because the businesses will have more money. But an efficiently-run business will already have the right number of employees. When a business sees that more people are coming in the door (demand) than there are employees to serve them, they hire people to serve the customers. When a business sees that not enough people are coming in the door and employees are sitting around reading the newspaper, they lay people off. Businesses want customers, not tax cuts.
A job is created when demand for goods or services is greater than the existing ability to provide them. When there is a demand, people will see the need and fill it. Either someone will start filling the demand alone, or form a new business to fill it or an existing provider of the good or service will add employees as needed.
Once again:
This post originally appeared at Campaign for America's Future (CAF) at their Blog for OurFuture. I am a Fellow with CAF.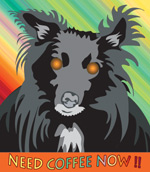 About the Author
Dave Johnson
Dave Johnson (Redwood City, CA) is a Fellow at Campaign for America's Future, writing about American manufacturing, trade and economic/industrial policy. He is also a Senior Fellow with Renew California. Dave has more than 20 years of technology industry experience including positions as CEO and VP of marketing. His earlier career included technical positions, including video game design at Atari and Imagic. And he was a pioneer in design and development of productivity and educational applications of personal computers. More recently he helped co-found a company developing desktop systems to validate carbon trading in the US.