WISE, VA: A pregnant woman's water broke as she awaited free dental care at the Wise County, VA fairgrounds on Saturday. She had stood in line in hot and muggy weather with over a thousand others to get a numbered ticket at the 12th annual Remote Area Medical (RAM) Health Expedition. According to RAM staffer, Jean Jolly, she didn't want to leave and lose her place in line.
An ambulance standing by eventually took her to town in time to have her child in a hospital instead of an animal stall. The child might have been the first ever born at a RAM free clinic. But not without a number, joked one of RAM's 1,700 volunteers.
Far from Washington's "debt crisis" abstractions is another crisis, an American reality one cannot describe in words nor experience secondhand.
Stan Brock founded Knoxville-based RAM in 1985 to parachute mobile medical teams into remote areas of third-world countries. Now over 60 percent the patients RAM serves are in rural areas of the United States. Brock himself lives where he stores his supplies, in an old schoolhouse RAM rents from the city of Knoxville for $1 a year. Brock himself is reportedly penniless.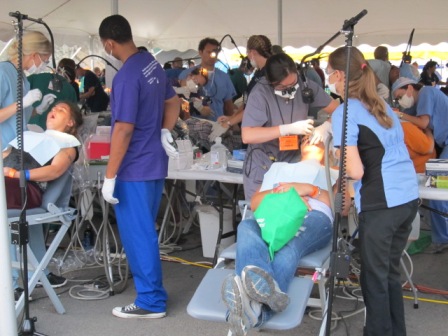 Patient-hopefuls started lining up at the fairgrounds on Wednesday for the Friday-through-Sunday event in this coal country town where per capita income is $14,000 per year. Outside the MASH-style field hospital, the patient parking contains rows of cars with Virginia tags. But many are from Tennessee and Kentucky, others from as far away as Alabama, Texas and Michigan. Patients camp out in their cars and vans, or set up tents. Cross from the volunteer to the patient parking lot and the vehicles are noticeably older.
Numbers seemed "a little off" on Saturday. The long lines I saw two years ago are gone. Standing among rows of patients and snaking air and vacuum hoses, one doctor credited better planning for the lack of lines. Patients were being staged in the covered arena seating. Wearing his signature khakis, RAM founder Brock said they'd given out 1,500 tickets on Friday, but a series of afternoon thunderstorms convinced some patients to leave. About 200 returned for treatment on Saturday, Brock explained, and he issued another came 700 tickets. "So 900 is not a bad number," for Saturday, he said.
But Regina, a volunteer who had driven from Connecticut with friends, remembers Wise being slammed in 2009 and 2010, the height of the Great Recession. She speculated that the economy might be preventing people from coming for even free treatment. To drive round-trip from a couple of hours away might cost $40-50 dollars in gasoline. That could be the difference between feeding the family for the month and not. Two men directing traffic out in the parking lot also noticed that traffic seems down this year. Looking out at the less than full patient parking lot, they did not believe improved organization alone accounted for the lack of lines. They blamed the oil companies.
Wise is both inspiring and deeply disturbing. The dental schools from the University of Virginia and Virginia Commonwealth come en masse to Wise each year. Passing volunteers – many from church groups – hand out water, Gatorade and lunches as dentists and student assistants stand for hours filling and extracting teeth and fabricating dentures. Dental work is the biggest need, followed by eye exams and glasses, treatments least often covered by insurance plans. Few who arrive here for treatment have those.
Kenneth Bernstein serves in dental triage. An additional X-ray truck from North Carolina may have made the demand seem lighter than in previous years, he said, but without numbers he couldn't say for sure. This is his third year at Wise. He recalls one patient in particular:
"I remember one still somewhat young lady who broke down when she was told her teeth could not be saved. She was comforted by many, both before they were pulled and afterward. But it was still hearbreaking. What if she had had access to diagnosis and treatment and training in proper dental hygiene earlier, could not her teeth and her self respect have avoided the harm she experienced today?"
In Appalachia, those services are often unavailable and unaffordable. For many, these annual free clinics are their only lifeline. Jean Jolly recounted how one man last weekend had hitched a ride as far as he could, then walked the last twenty miles to the fairgrounds for free care. But this year, while the need – and the recession – persists, for whatever reason fewer patients seemed able to make that trip.